Vyacheslav Volkov: «The suspense I avoided caught me unprepared and helped me»
No one will argue with the fact that the events of last year have changed millions of lives not only in Ukraine, but also in Russia and Belarus. Someone is forced to flee, leaving everything behind, someone, being in nominal safety, experiences the current situation as the worst period of life, someone tries to forget, get distracted and go with the flow, and someone finds the strength to defend their fundamental values. Of course, people of creative professions are in the forefront in favor of freedom of thought, speech and self-expression. And tattoo artists are no exception.
The hero of today's interview is one of those who, in the darkest times found the strength to go on a long journey for a dream far beyond their homeland. We sincerely respect this choice and are happy to share our conversation with you. Please meet Vyacheslav Volkov.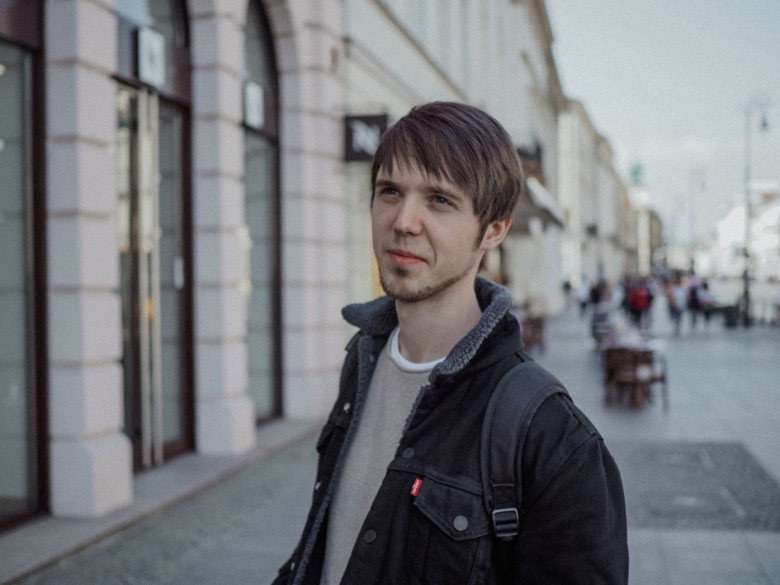 ---
Vyacheslav, first of all, please tell our readers a little about yourself.
- Greetings! I was born and raised in a small town in the Moscow region, I was a rather modest and shy teenager. There wasn't a lot of fun in the town.
In winter I was one of the best hockey players, and in summer I was lost in an abandoned place with friends. Creativity impulse has often visited me at school lessons, and I have left my "masterpieces" on the pages of textbooks. This is how my passion for drawing began. Of the minuses - I drew school wall newspapers. Pluses began to appear later, after studying at an art college. In the army years, I began to earn "Snickers" by drawing portraits of the girls of my fellow soldiers.
How did you get into tattooing?
- After graduating [the Faculty of Graphic Design], I began to think about a different artistic profession, thanks to which, as many people as possible could pay attention to my work. After all, I always wanted to develop primarily as an artist. For a long time I went through the options of how, where and what I can draw on. And somehow it happened that I thought: "Why don't I draw on people?" This was in 2013. I bought the first equipment with the accumulated money. So I didn't manage to work as a graphic designer.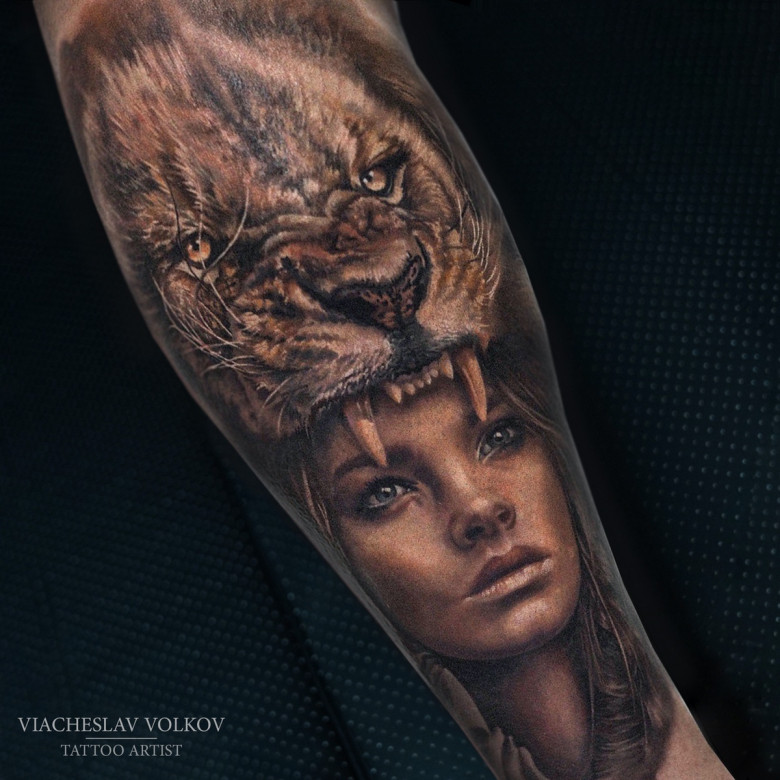 Do you remember your first tattoo?
- Oh yes, the first tattoo I did to my father, it was a tree of life in the Celtic style, and it came out pretty well. Probably because I was afraid to mess up doubly.
Why did you choose realism as your main style?
- Realism for me is the most difficult style, which allows you not only to fully reveal your artistic skills, but also to feel the atmosphere from what you see. Classical painting and art are closer to me. Everything else for me was something boring, light and not causing strong feelings and emotions. I like to draw things that people, including me, can believe and feel.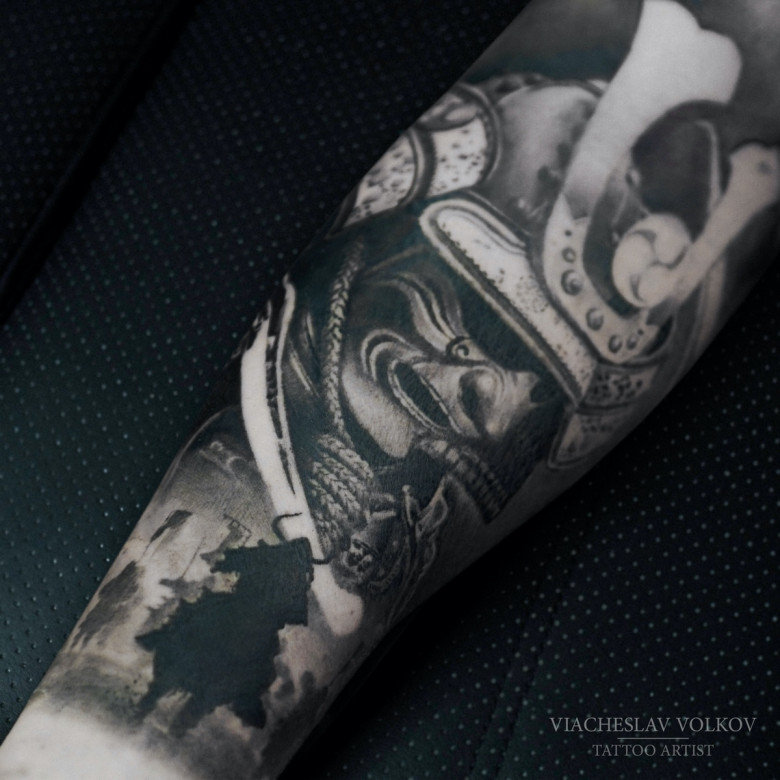 What features of your work do you single out on your own?
- It seems to me that the main distinguishing feature of my work is harmony, lightness, serenity and love for details. Probably because these traits are inherent in me and are part of my personality. One way or another, they always spill out.
My works reflect completely different plots and themes. I like classical painting, antiquity, illustrations, vintage, things that are saturated with time and history. I do what pleases me. I do not like borders when you have to do something narrowly focused. I like the freedom to try myself in different subjects.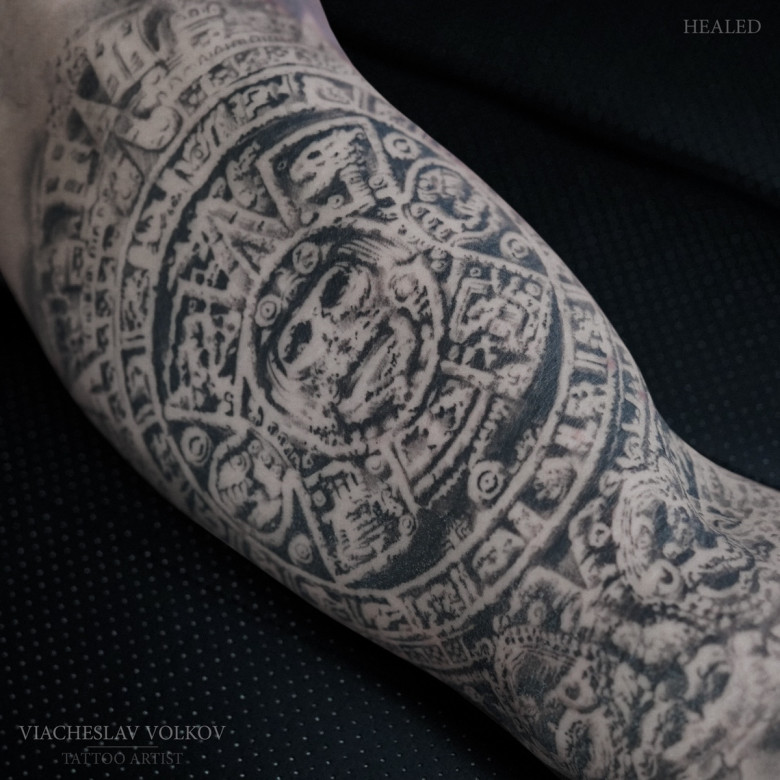 What tattoo themes do you prefer the most?
- Of my favorite plots, perhaps, I will single out antiquity, reflecting the count of time, travel, revealing a different view of the world, nature, with its unique wonderful landscapes, celebrities, admiring and striking with the uniqueness of their personalities, and of course the mafia, making their dark deeds.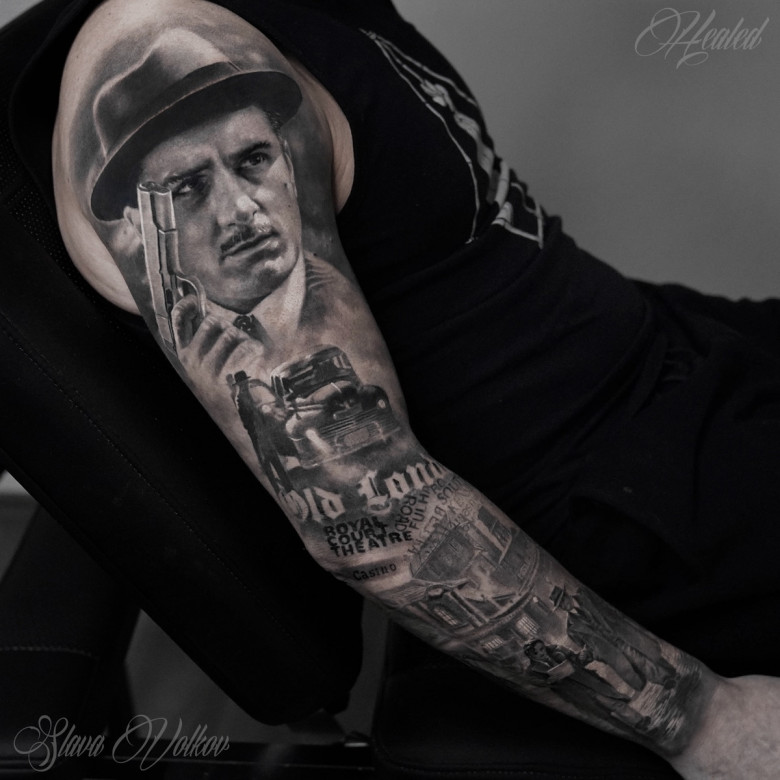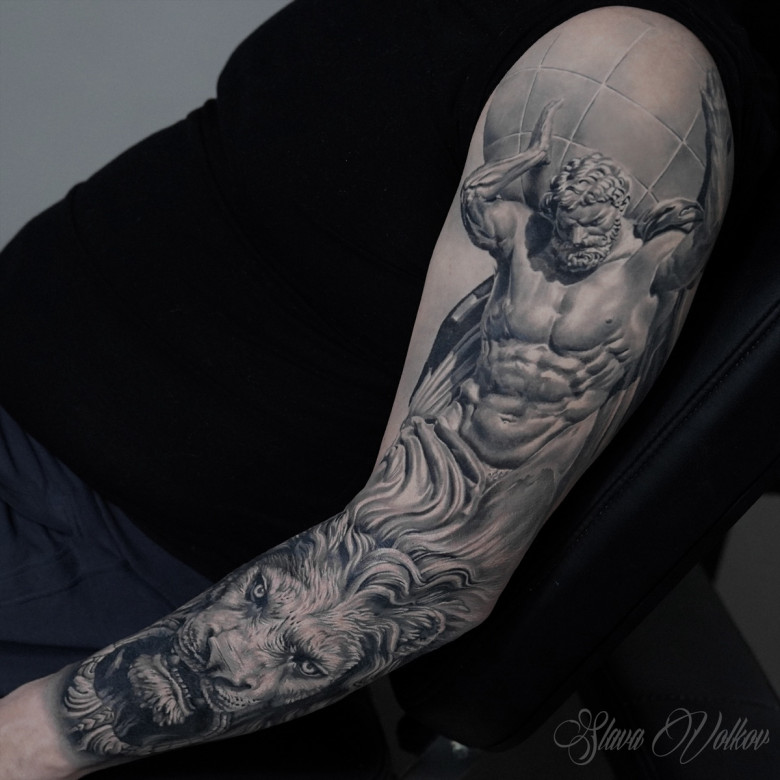 You said about freedom in the plots of tattoos. Do you work with your own ideas or are you guided by your client's wishes?
- Often the starting point in creating a sketch is the client's guide. He sets some flexible topics for implementation, lists what he likes or strongly dislikes, and the essence of what he wants to convey. Sometimes, the client is simply limited to the phrase: you are an artist, I trust you. It happens that I create projects made entirely according to my ideas.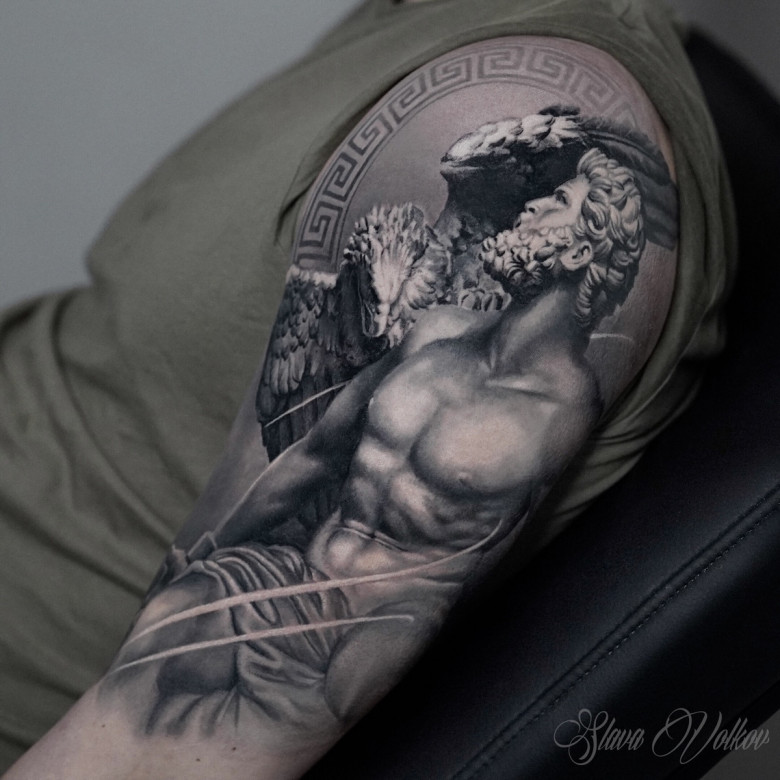 Tell us about your clients. Who are they?
- Most often these are adults and family people, more serious and with great life experience. Among them are entrepreneurs, designers, sports coaches, neurologists, surgeons, stylists and even pathologists. In general, I'm a happy person who communicates with representatives of various professions and learns a lot of new things from different fields.
Do you have tattoo idols?
- I sincerely admire all the talented guys whose work is striking in its originality, creativity and, of course, drawing details. As for me, the work of Dmitry Samokhin has always served as a guide and motivation for me. I happened to attend his seminar in Krakow in 2019. I was also interested in the experience of other tattooists, so I also attended Sergey Shanko's online master class. I love his style and recognizable palette. There is always something to learn, everyone brings something of their own, their individual features. And of course, I love the work of Alexander Okharin, Thomas Carly Jarlier, David Vega, Waler Montero.
What is tattooing for you?
- This is art.
And like any art, it's hard work, constant work on oneself, self-improvement, and in many areas of this life at once. It's sad when some famous tattooists went through fire and water to achieve success, and someone, having bought some cheap courses, or watched a couple of videos on YouTube, hopes to slip through the whole thorny path, dumping, processing the pictures as much as possible, deceiving himself and client. Or even worse, he appropriates other people's work for himself, which is disrespectful to other people's work. I'm all for fair play, who deserves what they get.
Do you travel a lot? Where have you already worked? Where are you going?
- I was offered to work in Poland, Germany, Turkey. I put it off. Apparently, I was not ready to step into the unknown at that moment. But as they say, everything has its time. I was focused on my specific goals and was not distracted by traveling. And when I finally got ready, the Covid epidemic began, which was then replaced by war.
Depression covered me. Every day my wife and I thought about what would happen tomorrow. Packed up and left for Thailand. To my surprise, there were many of my clients there, so we escaped this madness together. After 3 months, we arrived in the Russian Federation to complete the projects, and mobilization began. The day before, my wife was told about this by a client who has a brother there now. I didn't want to believe it, but when it did happen, all the dots were placed. Within 2 days we got together with friends and went across the border to Kazakhstan. I understood that if I didn't leave, it would all consume me emotionally.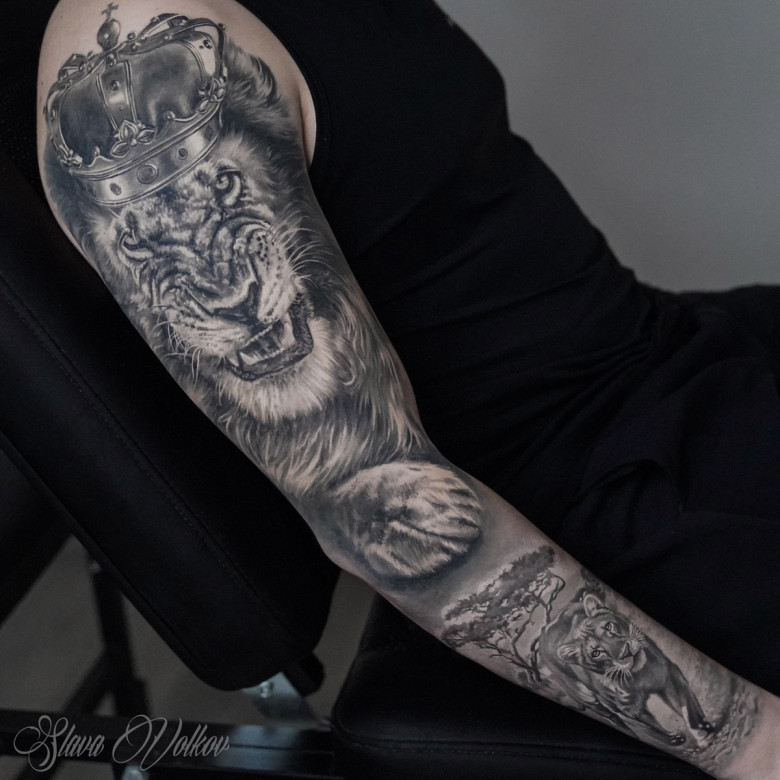 In Kazakhstan, by the way, I also had a chance to work. Circumstances were in my favor. The suspense I avoided caught me unprepared and helped me. I felt that a new round in my life and a new experience had begun.
While waiting for a flight to Turkey for further work, we drew our inspiration from the unique nature of Kazakhstan. We went to the mountains and canyons, saw the sights with our new friends. There are a lot of really kind and sympathetic people there, and this is surprising at first.
Now we are getting used to the new environment and doing the paperwork. I don't know how it is now in Russia, but many colleagues also left to explore new locations.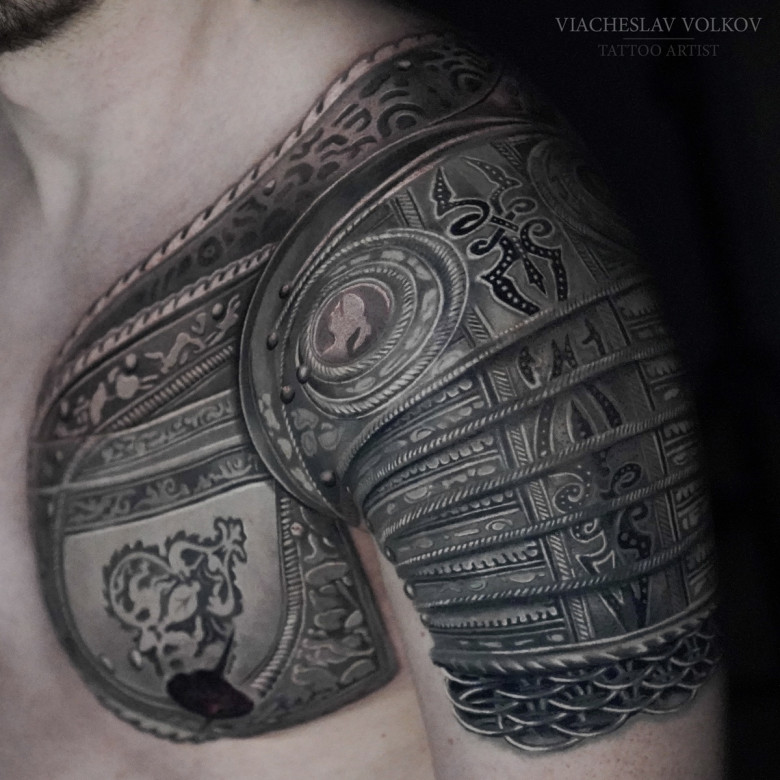 Do you think the tattoo industry in Russia will change due to the events of 2022? And what, in your opinion, awaits it in the near future?
- Recent events have pushed many tattoo artists and manufacturers to leave for more stable countries. From there, you no longer want to go back - to sit on a powder keg with all the consequences. Uncertainty about the future also affects the booking, people are afraid to spend money in unstable times. In addition, the increased cost of equipment and sanctions add fuel to the fire. A huge number of well-off potential clients have left, and they are also looking for ways not to return. But the industry in Russia is already losing the potential of a large number of real professionals every year.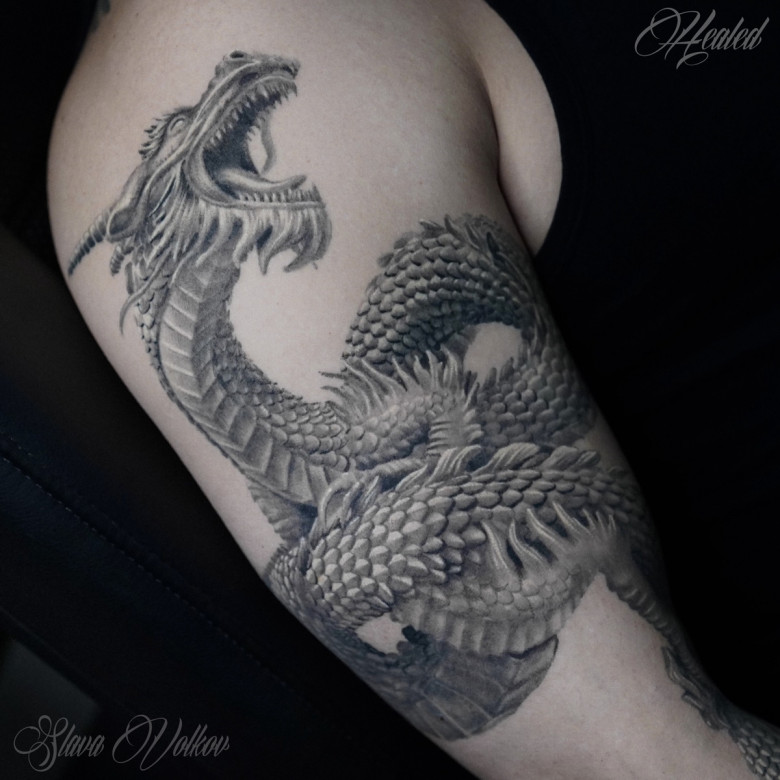 Share your plans for the future.
- In my plans to gain a foothold outside of Russia. Participate in conventions, draw and work hard on yourself, only get better and not relax. In the future, for life and work, I am considering the United States. For me, this is a place where many talented people are concentrated, motivating each other, and for me this is important. Also, I am very sympathetic to the variety of beautiful locations and climatic zones, and their cinematography. And in my free time, I would like to shoot travel videos, this is my favorite pastime for the soul.